Self Care Bingo
Make your own printable self care bingo bingo cards. Customize, download and print randomized bingo cards.
Recommended: Check out more Custom DIY Bingo Cards in many new themes and styles and for different occassions.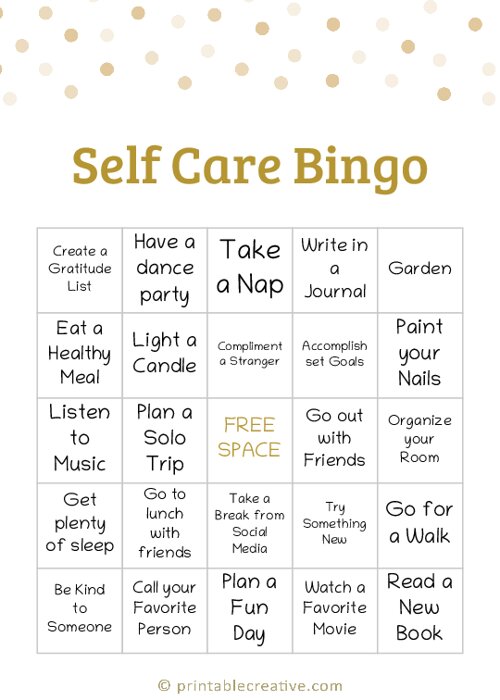 Edit / Customize 20 Cards - FREE
60 Cards - $6.95 90 Cards - $8.95 120 Cards - $10.95
What you can edit
To make changes, click on the 'Customize' button. You can change:
Title, Words
Grid size (e.g. 5x5 / 4x4 / 3x3)
Theme
Per page print option (single, two per page etc.)
Text color including (title & words)
Grid border style (boxed, lined or borderless), color & background
Words alignment
Option to include or remove free space
Change free space text color
Different options to fit words in grid (auto, same size, nowrap)
Self care is something easy to forget. This Self Care Bingo is perfect to keep your physical and mental well being in check. You can do it yourself or get the whole family involved. Make sure to share with your loved ones, family, friends and coworkers.
WORDS LIST: Create a Gratitude List , Have a dance party , Take a Nap , Write in a Journal , Garden , Eat a Healthy Meal , Light a Candle , Compliment a Stranger , Accomplish set Goals , Paint your Nails , Listen to Music , Plan a Solo Trip , Drink a Smoothie , Go out with Friends , Organize your Room , Get plenty of sleep , Go to lunch with friends , Take a Break from Social Media , Try Something New , Go for a Walk , Be Kind to Someone , Call your Favorite Person , Plan a Fun Day , Watch a Favorite Movie , Read a New Book , Meditate , Create a Vision Board , Drink Tea , Spend Time Outdoors , Listen to a Podcast , Go to the Beach , Go for a Ride , Cook your Favorite Meal , Re-decorate , Take a long Shower , Learn something New , Go Shopping , Declutter your Home , Go to a new City , Take a Bubble Bath