Superbowl 2020 Bingo
Make your own printable superbowl 2020 bingo cards. Customize, download and print randomized bingo cards.
Recommended: Check out more Custom DIY Bingo Cards in many new themes and styles and for different occassions.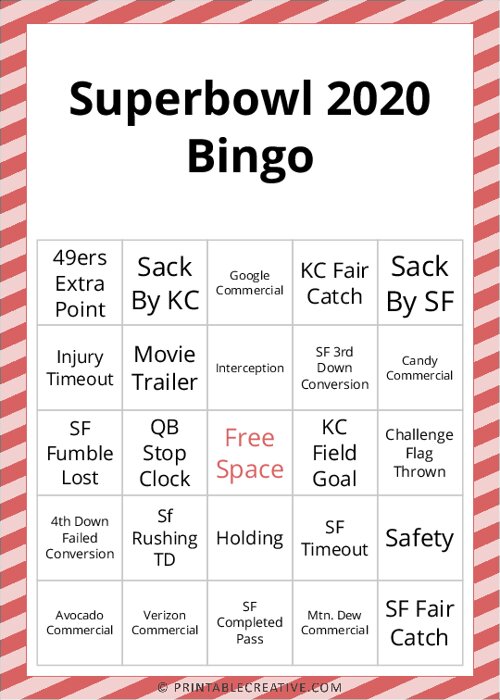 Edit / Customize 20 Cards - FREE
60 Cards - $6.95 90 Cards - $8.95 120 Cards - $10.95
What you can edit
To make changes, click on the 'Customize' button. You can change:
Title, Words
Grid size (e.g. 5x5 / 4x4 / 3x3)
Theme
Per page print option (single, two per page etc.)
Text color including (title & words)
Grid border style (boxed, lined or borderless), color & background
Words alignment
Option to include or remove free space
Change free space text color
Different options to fit words in grid (auto, same size, nowrap)
Make your Super Bowl 2020 Party or family gathering even more fun with these free printable bingo game cards. Perfect for football fans and lovers of all ages.
WORDS LIST: 49ers Extra Point, Sack By KC, Google Commercial, KC Fair Catch, Sack By SF, Injury Timeout, Movie Trailer, Interception, SF 3rd Down Conversion, Candy Commercial, SF Fumble Lost, QB Stop Clock, Chiefs Fumble, KC Field Goal, Challenge Flag Thrown, 4th Down Failed Conversion, Sf Rushing TD, Holding, SF Timeout, Safety, Avocado Commercial, Verizon Commercial, SF Completed Pass, Mtn. Dew Commercial, SF Fair Catch, KC Completed Pass, KC Interception, Penalty Declined, Cheetos Commercial, Face Mask, False Start, KC 3rd Down Conversion, Microsoft Commercial, Amazon Commercial, Facebook Commercial, Chiefs Extra Point, KC Fumble Lost, SF Interception, Pass Interference, SF Field Goal, Touch Back, Chiefs Field Goal, Challenge, 49ers Field Goal, QB Sack, Delay of Game, Dog in Commercial, Pizza Commercial, 4th Down Conversion, KC Passing TD, Beer Commercial, Missed Extra Point, Tie Game After 0-0, 49ers Fumble, Doritos Commercial, Personal Foul, SF Passing TD, KC Timeout, Car Commercial, Missed Field Goal, Two Point Conversion, KC Rushing TD, QB Kneel