Growth Mindset Bingo
Make your own printable growth mindset bingo cards. Customize, download and print randomized bingo cards.
Recommended: Check out more Custom DIY Bingo Cards in many new themes and styles and for different occassions.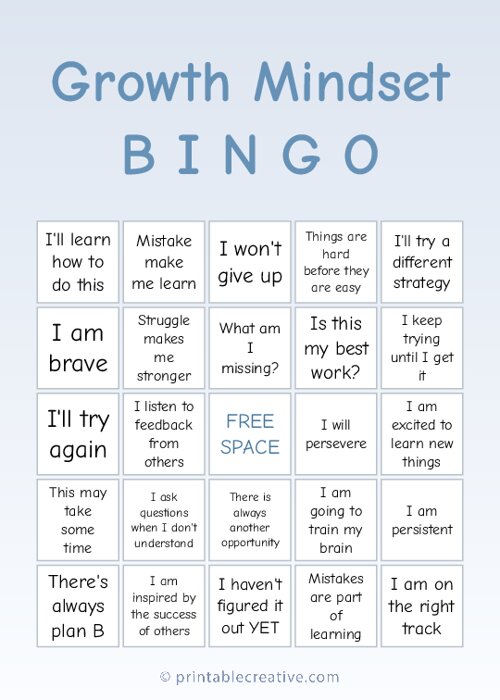 Edit / Customize 20 Cards - FREE
60 Cards - $6.95 90 Cards - $8.95 120 Cards - $10.95
What you can edit
To make changes, click on the 'Customize' button. You can change:
Title, Words
Grid size (e.g. 5x5 / 4x4 / 3x3)
Theme
Per page print option (single, two per page etc.)
Text color including (title & words)
Grid border style (boxed, lined or borderless), color & background
Words alignment
Option to include or remove free space
Change free space text color
Different options to fit words in grid (auto, same size, nowrap)
Growth Mindset Bingo is a fun way to introduce the Growth Mindset in your classroom. Reinforce positive way of thinking about themselves and new things to say.
Simply download, print and play. This bingo can be used as is, or create your own growth mindset bingo.
WORDS LIST: I'll learn how to do this, Mistake make me learn, I won't give up, Things are hard before they are easy, I'll try a different strategy, I am brave, Struggle makes me stronger, What am I missing?, Is this my best work?, I keep trying until I get it, I'll try again, I listen to feedback from others, I'll learn from them, I will persevere, I am excited to learn new things, This may take some time, I ask questions when I don't understand, There is always another opportunity, I am going to train my brain, I am persistent, There's always plan B, I am inspired by the success of others, I haven't figured it out YET, Mistakes are part of learning, I am on the right track, I take my time to understand my feelings, I like a challenge, I ask for help when I need it, I strive for progress not perfection, I can always improve