Chemical Elements Bingo
Make your own printable chemical elements bingo cards. Customize, download and print randomized bingo cards.
Recommended: Check out more Custom DIY Bingo Cards in many new themes and styles and for different occassions.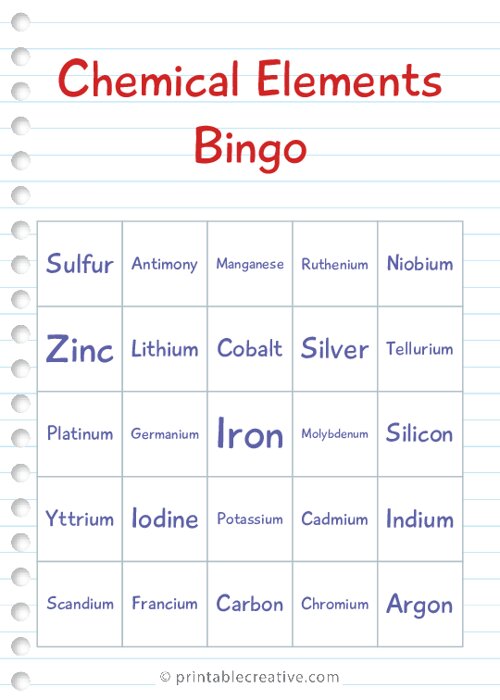 Edit / Customize 20 Cards - FREE
60 Cards - $6.95 90 Cards - $8.95 120 Cards - $10.95
What you can edit
To make changes, click on the 'Customize' button. You can change:
Title, Words
Grid size (e.g. 5x5 / 4x4 / 3x3)
Theme
Per page print option (single, two per page etc.)
Text color including (title & words)
Grid border style (boxed, lined or borderless), color & background
Words alignment
Option to include or remove free space
Change free space text color
Different options to fit words in grid (auto, same size, nowrap)
Chemical Elements Bingo is a fun and educational game. Test your knowledge or learn more about Chemical Elements, Periodic Tables and terms associated with Chemistry.
WORDS LIST: Sulfur, Antimony, Manganese, Ruthenium, Niobium, Zinc, Lithium, Cobalt, Silver, Tellurium, Platinum, Germanium, Iron, Molybdenum, Silicon, Yttrium, Iodine, Potassium, Cadmium, Indium, Scandium, Francium, Carbon, Chromium, Argon, Neon, Titanium, Bismuth, Cerium, Nitrogen, Helium, Barium, Uranium, Hydrogen, Tantalum, Beryllium, Mercury, Zirconium, Nobelium, Phosphorus, Xenon, Radon, Tungsten, Osmium, Copper, Lead, Nickel, Strontium, Fluorine, Plutonium, Magnesium, Thallium, Rhenium, Gallium, Polonium, Boron, Oxygen, Tin, Lanthanum, Calcium, Rhodium, Krypton, Europium, Thorium, Radium, Chlorine, Sodium, Rubidium, Vanadium, Selenium, Iridium, Arsenic, Bromine, Lutetium, Neodymium, Palladium, Aluminium, Gold