Carnival Fun Bingo
Make your own printable carnival fun bingo cards. Customize, download and print randomized bingo cards.
Recommended: Check out more Custom DIY Bingo Cards in many new themes and styles and for different occassions.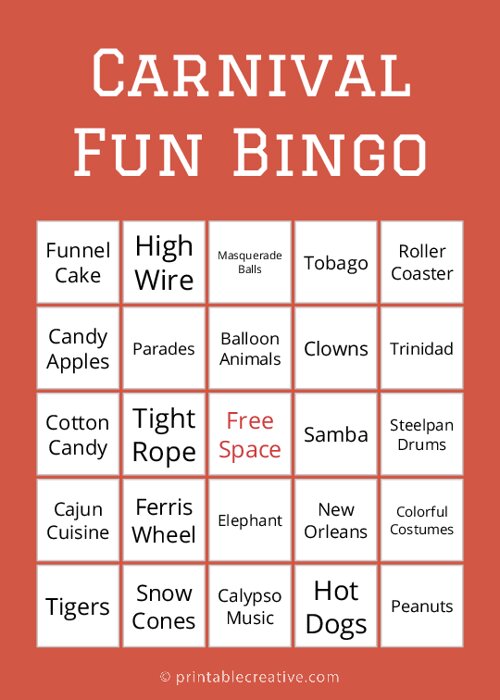 Edit / Customize 20 Cards - FREE
60 Cards - $6.95 90 Cards - $8.95 120 Cards - $10.95
What you can edit
To make changes, click on the 'Customize' button. You can change:
Title, Words
Grid size (e.g. 5x5 / 4x4 / 3x3)
Theme
Per page print option (single, two per page etc.)
Text color including (title & words)
Grid border style (boxed, lined or borderless), color & background
Words alignment
Option to include or remove free space
Change free space text color
Different options to fit words in grid (auto, same size, nowrap)
A fun and entertaining game for all ages, Carnival Bingo Game is sure to bring laughter and cheer when played with family and friends. Words associated with Mardi Gras and Carnival are included in the calling mat. Simply download, print and play.
WORDS LIST: Funnel Cake, High Wire, Masquerade Balls, Tobago, Roller Coaster, Candy Apples, Parades, Balloon Animals, Clowns, Trinidad, Cotton Candy, Tight Rope, Mardi Gras, Samba, Steelpan Drums, Cajun Cuisine, Ferris Wheel, Elephant, New Orleans, Colorful Costumes, Tigers, Snow Cones, Calypso Music, Hot Dogs, Peanuts, Masks, Lions, Fat Tuesday, Acrobats